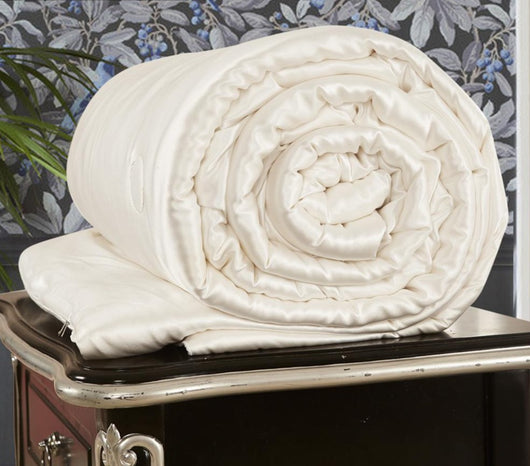 All Season 100% Silk Comforter Duvet Filled With Pure and Natural Long Strand Floss Silk
House Of Avana
Regular price $886.00 $620.00 Sale
Product Code: 2652405-140x205cm
Fluffy and lightweight, our silk-floss-filled comforters serve to protect you from the extreme hot and cold, as well as all kinds of invaders to your bed from bacteria to mites to mold.
Features:
1. Outer Fabric Shell: 100% 19 Momme natural long strand Mulberry silk (400 TCI).
2. Inner Filling: 100% pure and natural long strand silk floss.
3. Side Zipper: Small zipper on the side of the comforter for silk floss filling authenticity inspection.
4. Cover Colors Available: Ivory.
5. Temperature Regulation: Our comforters effectively reduce hot or cold irregularities when sleeping by wicking moisture from the body and adjusting to body temperature. The perfect comforter for hot sleepers and cold sleepers.
6. Luxurious: Soft and billowy, comforter-feel.
7. Highest Quality: Every product is hand-crafted and vigorously inspected to ensure the highest level of quality and customer satisfaction.
Benefits:
1. Soft & Smooth, Best Skin Care: 100% pure silk filling guarantees better skin care; it makes your skin feel soft and smooth and lets you enjoy the proteins silk contains.
2. Anti-allergenic: Not only 100% silk floss but also the 100% silk fabric shell can prevent allergy-suffers effectively.
3. No Shifting: The stitching structure of the comforter shell and layers of layers silk filling make our silk comforters will not easily move around or clump up.
4. Free Dust Bag: A FREE dust bag comes with each comforter purchase to keep your comforter new and clean.
- In our shop you can also find matching silk duvet cover for a better sleeping experience. 
| | | |
| --- | --- | --- |
| | Size (inch) | Silk Floss Weight (kg) |
| Twin | 67"W x 87"L | 1.25 kg |
| Full | 76"W x 87"L | 1.5 kg |
| Queen | 87"W x 90"L | 1.75 kg |
| King | 104"W x 92"L | 2.0 kg |
| Cal.King | 110"W x 96"L | 2.25 kg |

Season: Four Seasons
Filling: Silk
Material: 100% Silk
Grade: Grade A
Pattern: Quilted
Technique: Handmade
Weaving Technology: Tribute Silk
Manufacturing Technology: Handwork Positioning
Name: Four Season Silk Covered Silk Comforter
Cover Fabric: 100% 19 Momme natural long strand silk
Filling: 100% pure and natural long strand silk floss
Side Zipper: Small zipper on the side of the comforter
Size: Full, Twin, Queen, King, Cal King and more
1. Professional Dry Cleaning Recommended
2. Hand wash or Machine wash in lukewarm water (30°C) on the most gentle cycle available.
3. Minimize spin time.
4. Do Not Tumble Dry
5. Hang dry if possible, however, avoid direct sunlight exposure.
6. Use neutral or special detergent for silk.
7. Keep out of touch of pets/sharp objects