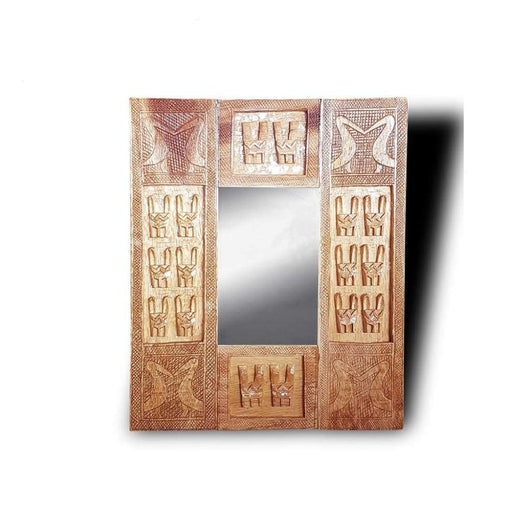 West African Wall Decor Hand Carved Malian Dogon Wall Art Mirror Frame Natural L60cm x W50cm
Avana International, LLC
Regular price £728.00 £323.00 Sale
Product Code: AAM-DLMF-0006
This West African wall art, an exquisite mirror frame, handcarved by an actual Malian artisan from the fabled Bandiagara cliffs, represents the Dogon door art of the authentic Dogon people from Mali who are amongst the oldest surviving African cultures on earth.
What a heritage one can possess with just a single piece of art like this!
What a journey you could traverse without actually walking through the cliffs of Bandiagara!
This African tribal wall art design for a wall decor idea is truly contemporary, but with the worth of culture, it is preciously vintage!
| | |
| --- | --- |
| Length | 60 cm |
| Width | 50 cm |
| Height | 0 cm |
| Diameter | 0 cm |
| Weight | 7 Kg |
| Material Used | Solid Hardwood |
| Local Name (Material) | Iroko |
| Scientific Name (Material) | Chlorophora excelsa |
1. Authentic traditional and cultural global products;
2. 100% hand crafted;
3. All logs are dried naturally and may have cracking, checking, beetle excavations as well as other natural characteristics. Most of the woods used have beautiful grain, rustic knots and unique color variation.
4. Due to natural wood used and handmade products, no two products are alike. Every product is exclusive.
5. Made in Africa.